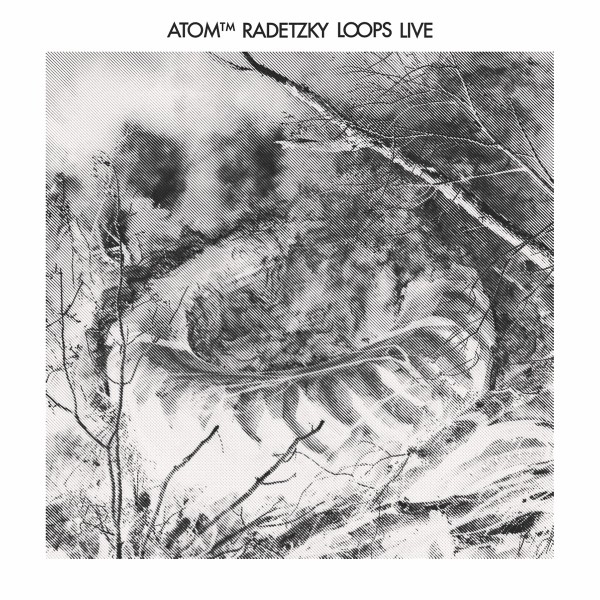 ATOM™ – RADETZKY LOOPS LIVE / HR-45 / 12″ VINYL / 2016
Also available in these stores
Atom™ – Radetzky Loops Live (HR-45) (2016)
In its Unusual Types Of Gramophone Records entry, Wikipedia explains the locked groove as "a silent loop, (at the end of each side or band), which keeps the turntable needle and tonearm from drifting into the label area", this is, not concentric grooves, but grooves running into each other, preventing any advance, and which as it turned out, were also capable of being recorded on, thus being co-opted by everyone from The Beatles, ABBA, Pink Floyd, Peter Gabriel, Monty Python to The Muppet Show, even if for more specific-interest contextual purposes one could perhaps pay a closer listen to experiences by more wayward pilgrims such as Dead Kennedys, Sonic Youth, Scraping Foetus Of The Wheel, The Damned, Alva Noto, Black Sabbath, Genesis P. Orridge, The Orb, Jana Winderen, Stereolab, Slayer, Flipper, Brutal Truth, Emil Beaulieau, Richie Hawtin, Nurse With Wound, 23 Skidoo, Mika Vainio, Aaron Dilloway, Renaldo And The Loaf, Vagina Dentata Organ, Doormouse and to Steve Reich, Lou Reed, Boyd Rice/NON, Asmus Tietchens and the RRRecords label in particular, in terms of format ab(use) and extensional aesthetic impact.
The two volumes of Radetzky Loops long-players (HR-22 and HR-23, 2013) were released as part of the Iván Navarro/Atom™ Radetzky Loop sculpture collaboration featured at the 11th Media Arts Biennial at the Museo de Bellas Artes in Santiago de Chile (October-November 2013) and eventually had its live premiere on March 23, 2015 at 8 PM, for the opening of the Navarro-curated Onomatoepopeyas group exhibition at the Santiago Matucana 100 cultural center's Concreta gallery (March-April 2015).
Radetzky Loop, consisted of a five-ton mining truck tire with a metal ladder attached to it to access the inside of the tire, where thirty eight loops (recorded in Santiago and New York), made from Johann Strauss' Radetzky March (1848), a perennial standard at the Chilean main school for military officers (and favored by Augusto Pinochet), played uninterruptedly, thus connecting dots between Chile's military, their interference of the countries' copper revenues and the use of burning tires in street protests. The actual LPs are more artifacts than conventional musical records of course, with each of these short loops playing absolute repetition/absolute variation, and with the listener having to physically advance the needle to each loop, making it a potentially infinite object (∞). No loop finishes unless physically acted upon.
So what the lucky few hundred people seated in Matucana 100's main theater that evening witnessed was Atom™ recreating the overtone sound-feel of these few second-long, ever-repeating tracks swirling in and out of perception, this is, using the loop records as tools (blocks), dispensing with any notion of a traditional concert, making it more of a sensory immersion experience session, obviously related with its original sound materials, but at the same time an entirely different, much more elusive and slippery-delicate creature: two long tracks split over two sides (the Strauss and Radetzky sides, same as on both Loops LPs) that should be attractive listening matter for anyone into the more eccentric sound art experimentation and isolationalist dance antics. As usual, fully licensed from the AtomTM_Audio_Archive (www.atom-tm.com) and released in a Hueso Records/Motel Producciones collaborative edition of 500 copies, to be launched on September 14 at the Book Art Fair at PS1-Moma in New York and on October 8 at the Museum of Contemporary Art (MAC) in Santiago.