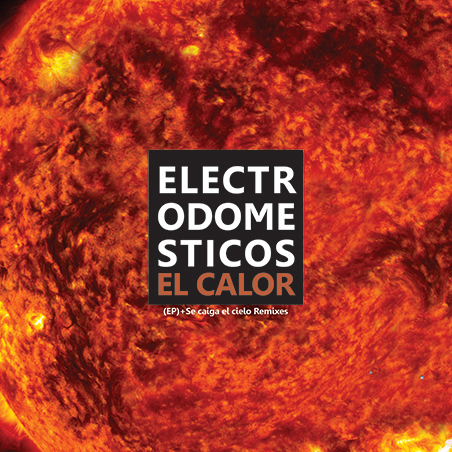 ELECTRODOMÉSTICOS – EL CALOR / HR-36 / 12″ VINYL / 2015
Also available in these stores
After the success of their latest album, Se Caiga El Cielo (HR- 21), released in July 2013 to an absolutely sold out Teatro Municipal de Santiago, the band was "hotter" than ever. As a result of that excitement they decided to celebrate thirty year career on the same stage a year later, packing the historic site to the rim once again in July 2014. In the meantime the creative machine kept on rolling and this is how El Calor was born, the first publication in the EP format in Electrodomésticos' career. It consists of four tracks that clearly reflect the sonic direction chosen and ripened by the band since the publication of their latest work, i.e., songs that mix rock, industrial sounds and electronica.
It is important to emphasize the collaboration of Hector Castillo in the process, who from New York applied his international musical experience in mixing the new sounds that now come to light in this EP. Another interesting aspect of El Calor is how key elements of their debut album (¡Viva Chile!, 1986) have been revisited, specifically the use of pre-recorded voices that match the melodies, generating a necessary tension to reaffirm the experimental nature which Electrodomésticos has consecrated as their seal of exploration and artistic legacy.
Tracks El Barro, El Agua, La Luz (the mud, the water, the light), El Calor (the heat), Parientes Del Mono (relatives of monkeys) and Un Sueño En La Piel (a dream on the skin) complete the journey through this new sound, explored, corrected and increased in relation to their previous album. Also, the EP format coincides with the speed in which the creative work is done these days (especially within the band) and the swiftness at which they can get their musical content out to the audience. "Our desire to continue creating new music, the enthusiasm, surprise and joy that this provokes on us, makes us move pretty quickly and this format is very apt to display the stage in where we are at", no doubt, a statement that suggests Electrodomésticos is a band that has not stopped evolving for thirty years, an it is now in its prime.
[]
ABOUT ELECTRODOMÉSTICOS
Website: http://www.loselectrodomesticos.cl