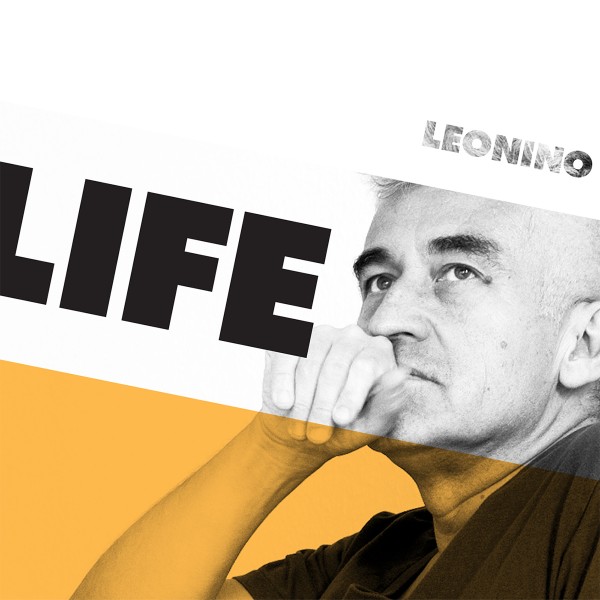 LEONINO – DOUBLE LIFE / HR-46 / CD / 2014-2016
Also available in these stores
The Royal Spanish Spanish Academy defines the word leonino (leonine) as "a one sided contract fair only for one of the parts, born under the sign of Leo, or a type of lepra", but here Leonino is the combination of Leonardo and Antonino, the names of both sons of the artist formerly known as Jorge González.
Somewhere halfway between an alter ego and a sort of doppelgänger, Leonino, the English-language development of Jorge González after his Libro (2013), really not so much post-factum but in a parallel reality, with Nicknacio Leonino credited as producer, is made form a literal and emotional distance. Two years after the U.S. release of Naked Tunes (HR-28) on Hueso Records and one after the release of its 12-inch remix stylistic tangent, Mixed Feelings (HR-34), Double Life (2014-2016) (HR-46) sees the light of day in CD format, a compilation of both previously released vinyl albums, complemented with three unreleased songs taken from the Trenes and Naked Tunes sessions and with 100 Años, a live take from Leonino's presentation at the Museo del Barrio in New York in 2014. All of this made possible by a collaboration of Hueso Records and Música & Entretenimiento.
Naked Tunes (with Pier and Pedro Bucci, Mariano Scopel, Martin Schopf, Tobias Freund, Argenis Brito and Miguel Toro on the guest list) is a self produced album for which the adjectives used in the press and comment sections range from intimate, quiet, naked, naïve and mystic, to monotone, bizarre, deficient, soul-less and inconsequent.
Mixed Feelings on the other hand transports I Think We Should Be Friends, It Wasn't Meant To Be and There Is A Light towards other dimensions my means of Andres Bucci, Ricardo Villalobos/Max Loderbauer and Atom™ and includes unreleased tracks Look Who's Talking and A Simple Country Song.
If we agree that the work process has more or less consisted of maintaining the semi-acoustic bedroom production structure adopted for Libro (with contributions by Dinky, Pier Bucci and Ricardo Villalobos) and that Leonino's proposal keeps that rough and calm texture and wraps it in a skeletal soul/gospel haze of country finishes, perhaps it is there where one can make out Leonino's changes, everything changes spirit. And if changing is not only a challenge for those who make music, but also for those listening, perhaps one can understand the non (anti?) promotion campaign and the bipolar reactions of part of his audience as part of an evasive body of work, of a longer blend, paradoxically more universal and individual at the same time, of a more paused repeated listening, as a challenge, more than a comfortable achievement, and if in that road some of the fans have to be left behind, it seems this is something González/Leonino already resolved to accept, and that has to be at least liberating. And of course, all of this without forgetting the 2015 release of Trenes (HR-37), again as Jorge González, this is, changes, everything changes; to remain the same and start again.