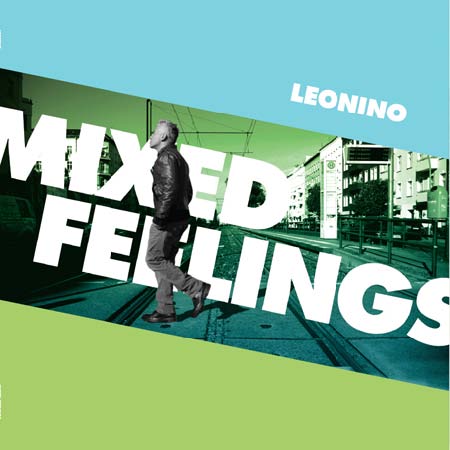 LEONINO – MIXED FEELINGS / HR-34 / 12″ VINYL / 2015
Also available in these stores
After last year's big success with Naked Tunes (HR-28), the debut album by Leonino (the new –English speaking– moniker of Jorge González, with whom he explores the genres of soul, rhythm & blues and country), Hueso Records is pleased to announce the release of a 12" including remixes of three of the hits on Naked Tunes as well as two new/unreleased songs by Leonino. The record, appropriately entitled Mixed Feelings, contains five tracks of collaborations with Andrés Bucci, Ricardo Villalobos & Max Loderbauer, Tobias Freund and Atom™ (Uwe Schmidt), who surely are some of the most talented musicians currently working from the Berlin/Santiago axis, and who with these remixes have honored Leonino's iconic status by paying due respect to his voice and compositions.
A1: I Think We Should Be Friends Remix (by Andrés Bucci at Simple Things Studio, Berlin 2014). The steady beat driving through the original track gets a lot more complex in Bucci's hands, who chooses to keep Leonino's clean nylon-string guitar sound while adding some brass and low-frequency oscillating pulse to the violin accents, taking the whole mix to a very suggestive new depth.
A2: It Wasn't Meant To Be Remix (by Ricardo Villalobos and Max Loderbauer at Ricardo's Studio, Berlin 2014). Villalobos, along the very experienced Loderbauer (Sun Electric and Re:ECM) bring us almost 10 minutes of well layered minimal abstraction, adding several different pulsating beats and a playful bass line, and the whole accented by the multiplication/distortion of Leonino's vocals to an almost ghostly effect. All through the track, spatial echoes and distant electric guitar fiddling add up to the quite "trippy" final result. As expected from these true meisters of the more experimental side of techno, it's a track destined to compel DJs from all over to bring it in the mix and produce true dance-floor magic wit it.
B3: There Is A Light Remix (by Atom™ at the Bowman Suite, Santiago 2014). By switching the first third of the original version –entirely vocal– for a densely enveloping mix of rumbling industrial noises and piano loops that slowly fades out as the voice comes in (almost two minutes into the track), Atom™ does not fail (does he ever?) when including various types of echoes and synthetic sounds to generate lots of "air", giving us the feeling that it's all happening inside a huge hangar constantly getting bigger and bigger, where half-hidden sounds come and go from all corners and Leonino's message gets to sound almost messianic.
B4 and B5 are the two new/unreleased songs by Leonino (remixed by Tobias Freund at Non Standard Studios, Berlin 2014). Both are very intimate songs (in which you can hear Leonino's finger tips running atop the guitar strings), full of nostalgia and a humble wisdom getting whispered right into our ears by someone who knows exactly what he's doing. Confessional and reflexive, these tracks talk of the coming-of-age of an artist reviewing a career that has brought its many fans such a wide range of styles and undeniable talent. B4: Look Who's Talking (the title speak for itself) and B5: A Simple Country Song (also quite a self-explanatory title, with the whole horse-walk paced rhythm and slide guitar sound!) are a well suited pair to bring a golden finale to such a great set of tracks.
The original songs for A1, A2 and B3 were taken from Naked Tunes (HR-28) and B4 & B5 were produced by Leonino at Kroessener Studios and mixed by Tobias Freund at Non Standard Studios, Berlin, between 2013 and 2014. Mixed Feelings was mastered by Gonzálo González E. at CHT Studios, Santiago 2014, except B4 and B5, mastered by Tobias Freund at Non Standard Studios, Berlin 2014. Art & Layout by Pablo Castro, photos by Pier Bucci. All music and lyrics are by Jorge González. Released by Hueso Records in Brooklyn and Santiago in 2014.
[]
ABOUT LEONINO